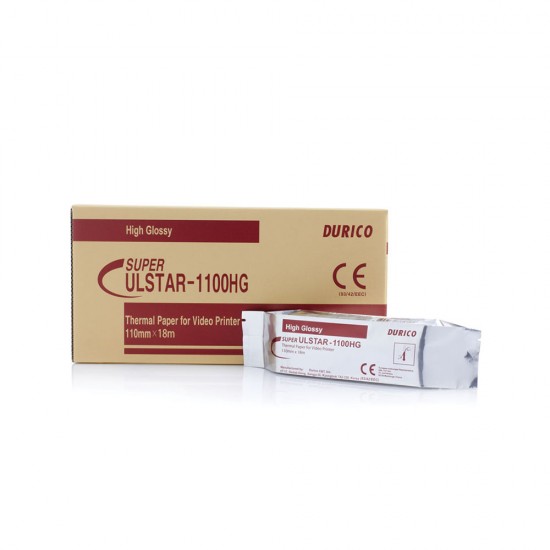 DURICO Super Ulstar-1100HG compatible SONY UPP-110HG / pack. 5 rolls
Pack of 5 rolls of b/w DURICO Super Ulstar-1100HG compatible SONY UPP-110HG ultrasound thermal paper, usable with Sony UP-850, UP-880, UP-870MD, UP-890MD, UP-895MD and
Mitsubishi P-70, P-90, P-91
video printers.
Main features:
- Paper type: high glossy (HG)
- Dimension: width 110 mm / length 18 meters
- Precise, high-resolution image reproduction. Very high intensity and density of the black color. Excellent, bright, clear and defined medical images. Glossy and photorealistic reproduction.
- Smooth printing and long-term use of the printer. Easy tear along the dotted line. Minimal curvatures to obtain flat and easy-to-archive photos. Built-in anti-electrostatic layer to prevent damage to the thermal head.

Why pay more for the same quality?
Durico C&T (Coating & Technology), Inc specializes in the production of direct thermal synthetic films. Durico produces the world's highest quality direct thermal synthetic film for video printers used to print high resolution ultrasonic scan images. Durico uses the same material and coating technology as the original supports, but is cost-effective thanks to a simplified distribution chain, with direct sales from the distributor to healthcare facilities around the world. Durico exports millions of rolls to over 70 countries (120 partners) and offers a price at least 30% lower than branded printer media.

High water and heat resistance for long-term storage
High humidity and heat affect the preservation status of images and can cause significant loss of printed images. Durico's special coating technology allows you to preserve the printed image for a long time. The high-density, high-gloss grades are UV-cured and have a highly glossy surface, extremely high optical density, and perfect water and heat resistance for long-term preservation. Additionally, this UV-cured layer helps keep the thermal dye within this layer and prevents any damage to the thermal head due to the thermal dye sticking to the head.
Perfect match with the print head
Durico Uses the same material (Yupo film) and applies the same coating technologies to produce direct thermal synthetic films. The coated film is calendered to achieve a smooth surface and consistent image quality, which makes the film flatter, reducing thickness. The smooth surface of Durico thermal media ensures a perfect match with any thermal printer head for long life and prevents unnecessary noise.

Minimal curl
Durico media is back-coated for minimal curl and consistent printing. The flat surfaces of printed media ensure excellent photographic image quality and ease of archival.
Print high resolution images
Durico media provides a wide gradation of grayscale reproduction. Considering the characteristics of the printer, Durico develops a grayscale perfectly matched to the printer, which allows you to represent detailed images. A steeper Y curve per energy change and higher optical density at maximum energy demonstrate higher image resolution with accurate grayscale reproduction of the original images.
Excellent tearing properties
Durico uses Yupo's special grade film for excellent tear-off properties. Once torn, Durico media is cut directly in the transverse direction without damaging any printed images.
Anti-electrostatic treatment
Durico supports are anti-electrostatic treated. With this treatment, the risks arising from the accumulation of electrostatic energy which can damage and destroy vital electronic components in the printer head due to the accumulated electrostatic energy are eliminated.