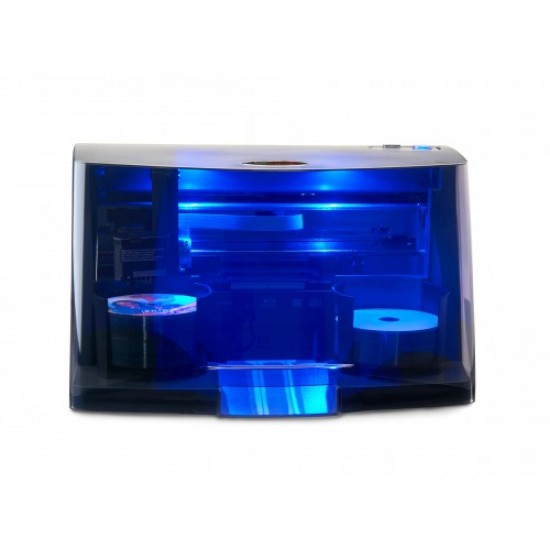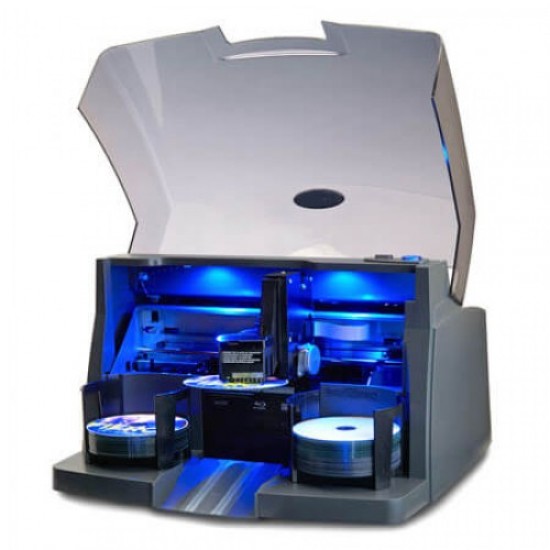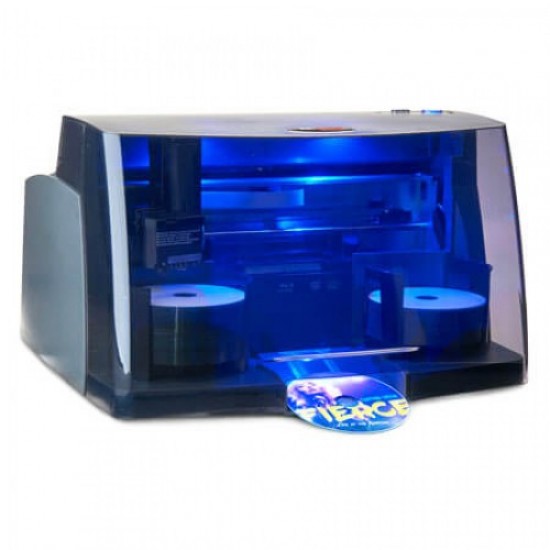 Primera Disc Publisher DP-4052 CD/DVD
DP-4200 Series automates the process of burning and printing quantities of recordable CDs,DVDs and Blu-ray Discs. Discs are transported one at a time into either single or dual optical drives using the built-in robotics. After data is burned, the discs are transported to a high-speed, high-resolution full-colour disc printer.

Features of the new DP-4200 Series include:
USB 3.0 – delivers the fastest possible recording speeds on CD-R, DVD-R and BD-R media
One high-yield, tri-colour ink cartridge – delivers low ink cost per disc
Perfect for multi-colour disc layouts
New print cartridge implementing native 1200 dpi high resolution with 4800dpi HQ mode for perfect photo-realistic printouts
Maintenance free print system using ink cartridge with integrated print head – eliminates problems with fixed print heads and keeps print quality consistent through the life of the machine
Minimum down time for ink replacement – within seconds ready to resume printing after cartridge change
Just a few of the most popular uses include content for police car video evidence, PACS images in radiology, court proceedings, worship services, high-resolution wedding videos, music CDs for bands to sell and photo collections for mission trips.
Compatible with Windows 7/10+ and Mac OS X 10.7 (or higher). Optional Blu-ray Disc recordable drives available.
Specifications:
Disc Capacity:
50
Number of Drives:
1
Disc Recorders:
Latest-generation CD-R/DVD-R recordable drives
Recordable Formats:
CD: CD-R, CD-RW, CD-Audio (CD-DA), Video-CD, MP3 to CD-Audio, most other industry-standard CD formats
DVD: DVD±R, DVD±RW, DVD±DL
Print Method:
Thermal inkjet; powered by Funai
Print Resolution:
Up to 4800 dpi
Ink Cartridges:
One tri-colour ink cartridge
Colours:
16.7 million
Colour Matching:
Z-Color™ colour profile included
Robotics:
High-speed belt drive
Ink Level Warning:
Calculates actual number of prints remaining based upon ink usage of graphics being printed (patent-pending)
Indicator Lights:
External: Power
Internal: Blue LED lighting is on during normal operation; pulses during low-supplies
condition; blinks during error condition
Operating Systems:
Windows®: 7/10+
Mac: OS X v10.7 or higher
Data Interface:
USB 3.0 for CD/DVD/BDR drives
Recommended PC Minimum System Requirements:
Intel Pentium IV® Processor or higher, 1GB RAM or higher, 10GB or more free hard drive space & available USB 2.0 port. For optimal performance use USB 3.0.
Recommended Mac Minimum System Requirements:
1 GHz Intel processor or higher, capable of running Mac OS X v10.7 or higher, 1GB RAM, one available USB 2.0 port, 10GB or more free hard drive space. For optimal performance use USB 3.0.
Power:
Universal auto-switching 100-240VAC,
50/60 Hz, 5.0A
Certifications:
UL, UL-C, CE, FCC Class A, RoHS, WEEE
Weight:
11.8 kg (26 lbs.)
Dimensions:
452mmW x 279mmH x 445mmD (17.8"W x 11"H x 17.5"D)
Included:
PTPublisher Software for PC and Mac.
One tri-colour ink cartridge and ten WaterShield™ sample discs (CD).
Options:
Blu-ray Disc Recordable Drives
Business Card Adaptor Kit; supports
» 80mm mini CDs and DVDs
» 59mm x 85mm rectangular business card CDs
» 63mm x 80mm rounded "hockey rink" CDs
Extended Warranty
Important Note: DP-4052 is NOT network compatible.